Pope Francis to the youth of today:
"Dear young people, do not bury your talents, the gifts that God has given you! Do not be afraid to dream of great things!"
"It is not enough to say we are Christians. We must live the faith, not only with our words, but with our actions."
"Dear young people, Jesus gives us life, life in abundance. If we are close to him we will have joy in our hearts and a smile on our face." 
St. Patrick's College invites you to take time to read the 2021 School Prospectus and watch the video messages from Dr M Knox (Principal), Mrs P Thom (Head of Year) and Mr D Boylan (Special Educational Needs Coordinator.)
Faith-Filled Activities in St. Patrick's College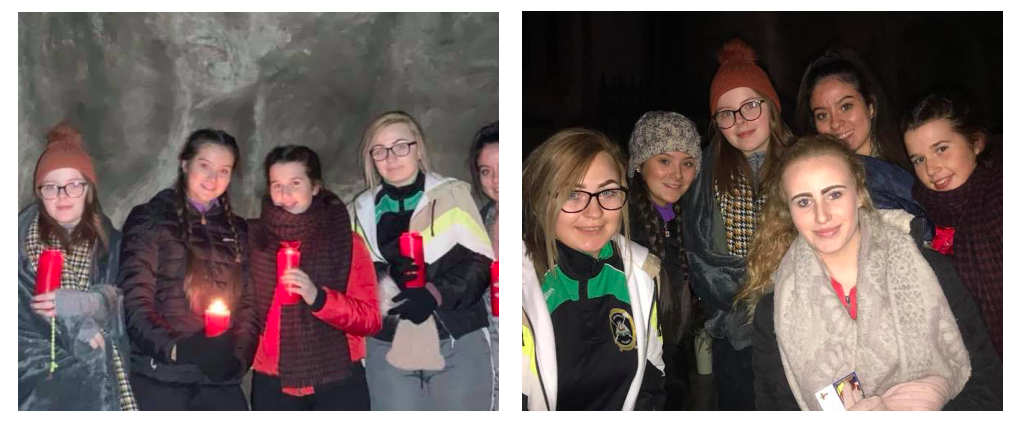 'Stay Awake for the Homeless'
On a cold Friday night, 8th March 2019, our Pope John Paul II students joined over 70 young people from across Down and Connor at the Living Youth Building in Belfast in 'Stay Awake for the Homeless', to raise awareness and to fundraise for Homelessness Charities. A massive £2,352 was raised overall! The young people stayed awake all night (8pm – 6am) and took part in many faith-based activities throughout the night including Mass, meditation, prayer and the rosary at the grotto. They listened to speakers from Habitat for Humanity and the Welcome Centre and some of the young people volunteered at the St Patrick's soup kitchen. The stay awake night finished with bacon butties at 6am.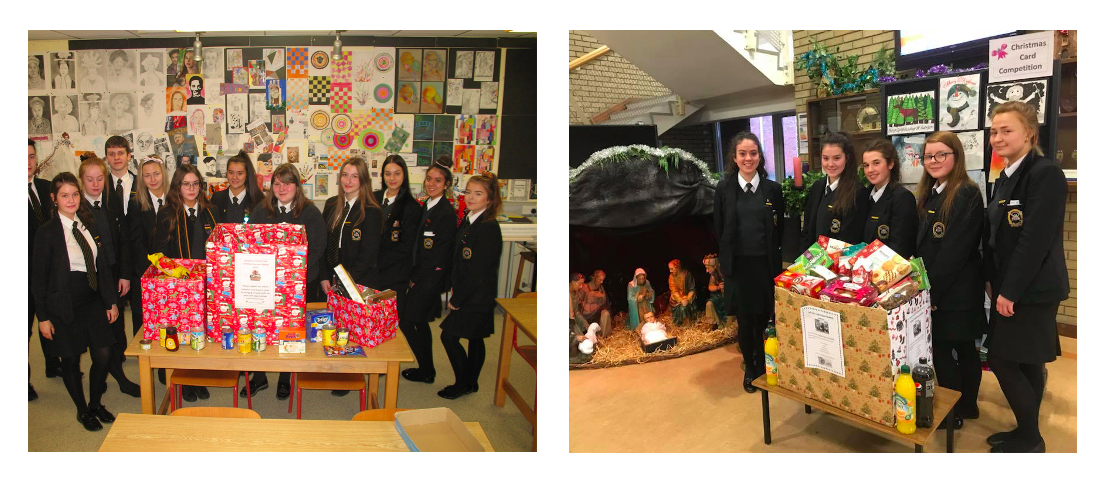 Rotary Christmas Hampers Project
Mrs Carey's A-Level RE Class take responsibility for the Rotary Christmas Hampers Project.  They raise money to buy non- perishable food items which they present to the Ballymena Rotary Club. The organisation make up hampers and distribute them to lonely, elderly and deprived men and women in the borough.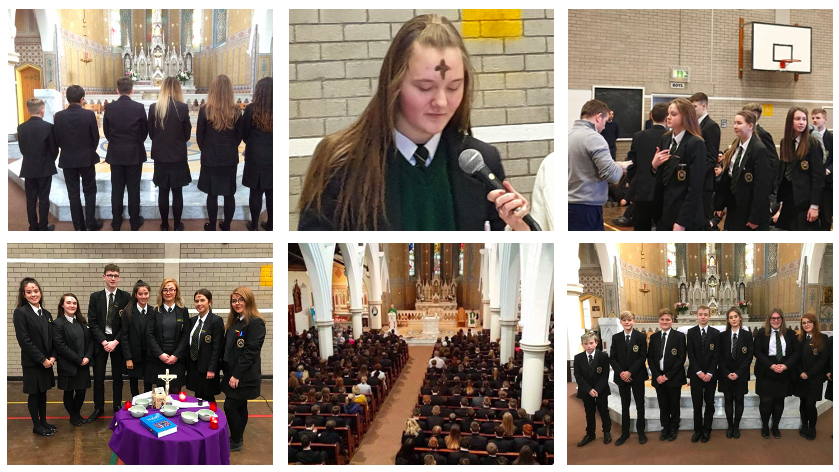 Ash Wednesday & Beginning of School Year Mass
Each year we mark the beginning of Lent with the distribution of Ashes. Our sixth-year pupils lead the services and assist with distributing the Ashes.
As part of our Easter preparations A-Level Religious Studies students lead the Stations of the Cross in All Saints' Church at 12 noon. GCSE pupils also participate in joining the parishioners to pray the Stations of the Cross and call to mind the Passion of Christ. They represent the school in a very dignified manner.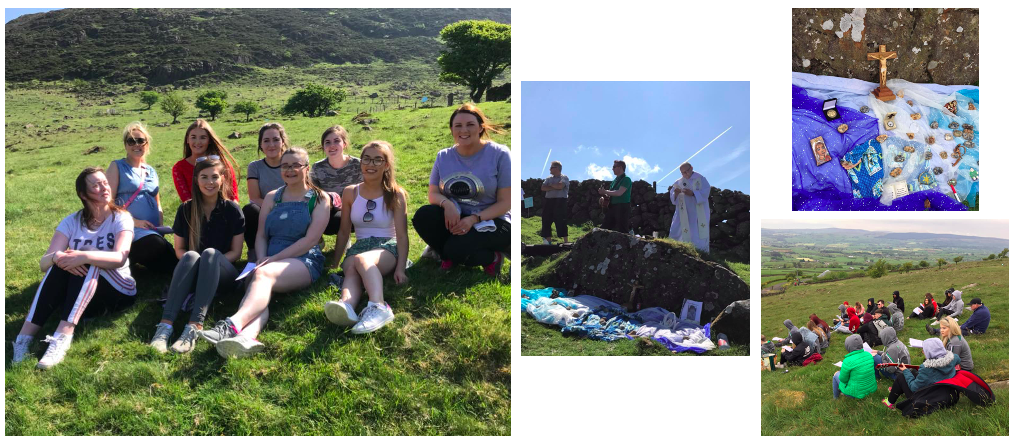 Year 14 Leavers' Mass
It is the tradition in St Patrick's College, that we celebrate our Year 14 Leavers' Mass on Slemish Mountain.  The morning session consists of a Retreat facilitated by Mr Hugo MacOscar followed by a Mass on Slemish Mountain in the afternoon.  The day is an opportunity to experience in a very special way the presence of God. The students find it a very rewarding and memorable event to mark their last days in St. Patrick's in a spiritual and serene setting on our doorstep. The Mass last year was enhanced by beautiful music from Justin McGurk.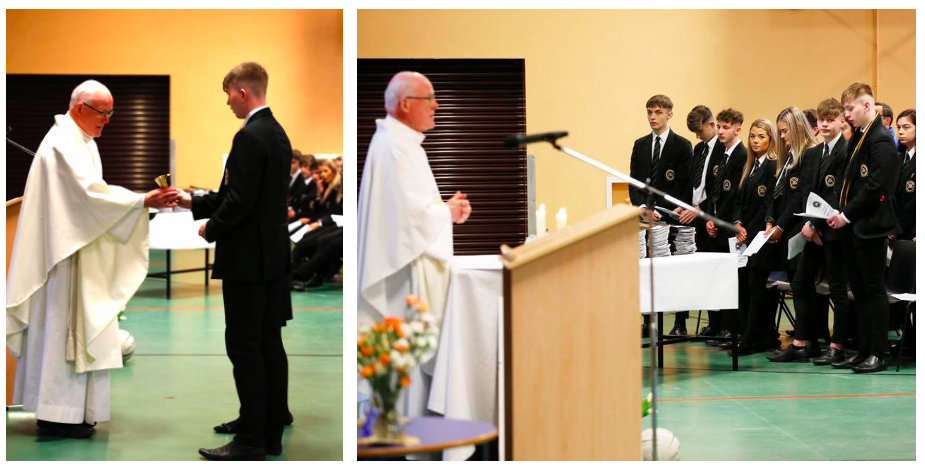 Year 12 Leavers' Mass
Every year the Year 12 Leavers' Mass is celebrated by Fr. Delargy in St Patrick's College. It is an opportunity for the students to come together to thank God for times they have spent together and for the friends they have made.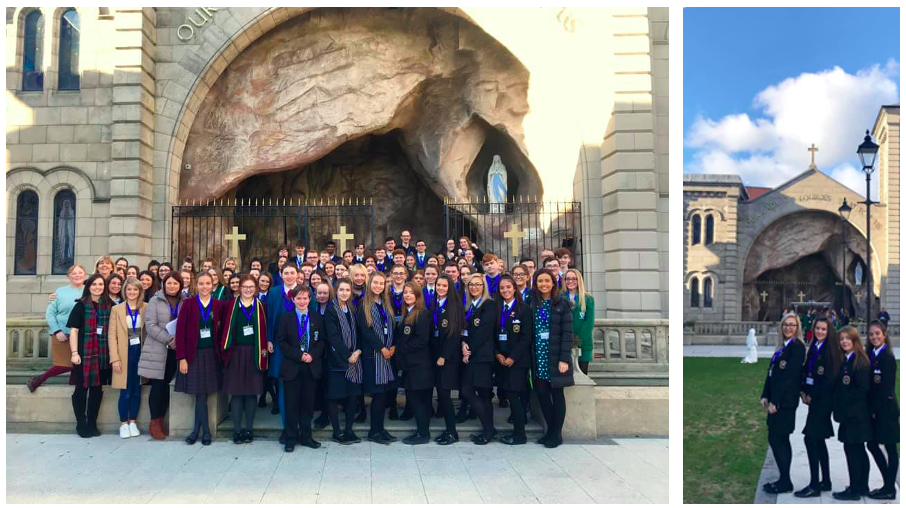 Pope John Paul II Award
As part of the completion of the Pope John Paul II Award, our Year 14 students travelled to Belfast to participate in a workshop hosted by 'Living Youth'. The PJP II Award aims to support and celebrate the commitment and enthusiasm of young people who are already actively involved in their church and in their local communities and invite them to reflect on their involvement. Our students were given the opportunity to interact with students from other schools within the Down & Connor Diocese to share and discuss activities they completed for the award. This was an enjoyable learning experience for our students. We are so proud of all our students who received gold and silver awards for recognition of their hard work and commitment!

Road of Hope Shoe Box Appeal
During the months of October and November students from the Transition Group and A Level RE classes visit all classes and staff in the College, encouraging a generous response to the popular Road of Hope Shoe Box Appeal. 
The organisation paid tribute to the caring nature of St. Patrick's students outlining how these shoeboxes are appreciated in the poorer countries.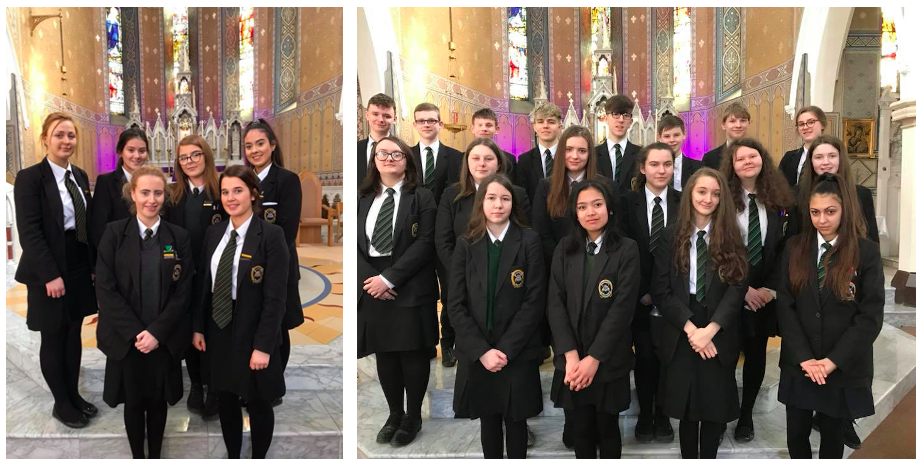 Sacrament of Reconciliation
During the season of Advent and Lent, in preparation for Christmas and Easter, the school celebrates a Penitential Service which gives everyone time to examine their conscience and reflect prior to individual Confessions.
We are very fortunate that the priests in our local parish offer support and help to nurture the seed of faith in the young people in our school community.
Voices of Faith in St. Patrick's College
What does faith mean to students? Learn from the thoughts of Aksa, Tiernagh and Lauren here.