In his encyclical Laudato Si' Pope Francis takes inspiration from St Francis and reminds us that our common home is like a sister with whom we share our life and a beautiful mother who opens her arms to embrace us. "Praise be to you, my Lord, through our Sister, Mother Earth, who sustains and governs us, and who produces various fruit with coloured flowers and herbs".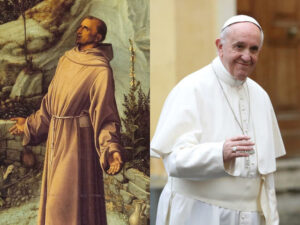 "This sister now cries out to us because of the harm we have inflicted on her by our irresponsible use and abuse of the goods with which God has endowed her. We have come to see ourselves as her lords and masters, entitled to plunder her at will. The violence present in our hearts, wounded by sin, is also reflected in the symptoms of sickness evident in the soil, in the water, in the air and in all forms of life."
"We have forgotten that we ourselves are dust of the earth (cf. Gen 2:7); our very bodies are made up of her elements, we breathe her air and we receive life and refreshment from her waters".
Laudato Si calls for an ecological restoration, a recognition that Mother Earth is our common good and that we must care for her and all her creatures. 7th Ballymena (All Saints) Scout Group through our 'Secret Garden' project wish to introduce our young people to the care of nature, the restoration of habitat and teach them how to be the future guardians of biodiversity through the shared space at Kenbaan.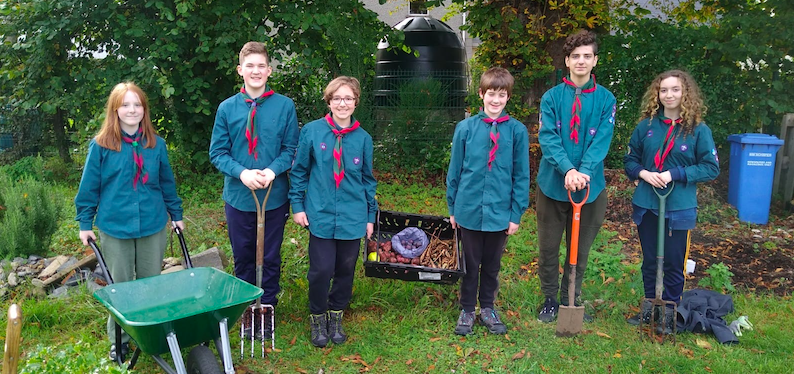 Before starting work at Kenbaan the young people visited Cloughmills to see their Community Garden being run on organic principles and learned how to increase biodiversity within the garden by attracting more pollinators. They will bring this learning back to Kenbaan and introduce native plants as well as a 'bug hotel' and bird boxes.
We will work from the RHS 'Plants for Pollinators' list and keep a focus on plants that are native and that do well in the local area. In addition, we are aware that the garden, which used to house an old building, may not provide the best growing conditions – we will choose plants that are hardy and able to cope with this.
The scouts will carry out a planting day in the autumn to put in some of the main tree and shrub plants. The project will seek to provide nectar and other food sources for insects and wildlife over as long a period as possible – covering all four seasons. Planting of perennial flowers will be best carried out in the Spring.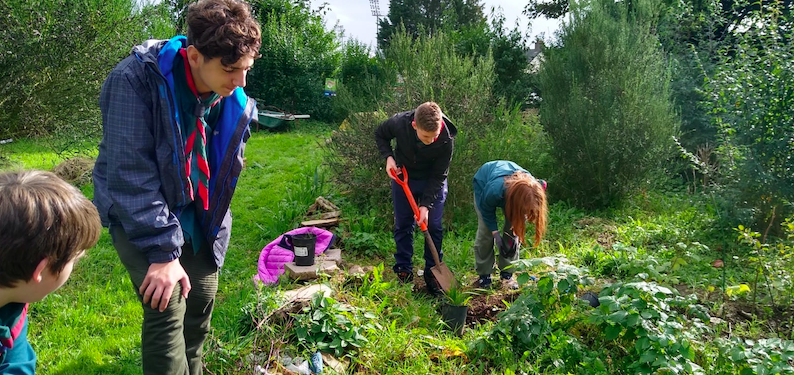 Some trees and shrubs we would like to plant initially are:
Mahonia species – Oregon grape,    Viburnum tinus laurustinus,    Acer campestre; field maple (N),    Crataegus monogyna; common hawthorn (N),    Ilex aquifolium; common holly (N),    Prunus avium; wild & edible cherries (N),    Sorbus aucuparia; mountain ash, rowan (N),    Viburnum opulus; guelder rose (N),     Buddleia davidii,    Malus domestica edible apple – preference for old Irish varities,    Crab apple
(N – native plant)
In addition it would be nice to plant some winter flowering crocus and also teach the children about planting bulbs now for early spring colour and nectar:
Crocus species crocus (winter-flowering)  Galanthus nivalis common snowdrop
We look forward to keeping you updated on our progress.